Residential
& Commercial Pressure Cleaning
We Do Quality Concrete & other Surface Area Cleaning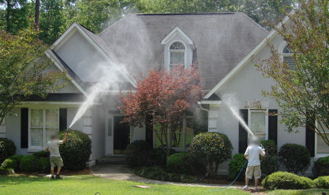 Our crews are certified mobile cleaners, trained in the proper disposal of waste water, reducing your liability.


Spray & Wash's steam cleans various concrete surfaces including sidewalks, plazas, building wash downs with our lift, garage cleaning, graffiti removal and dumpster enclosure maintenance. Our crews use modern equipment with up to 4000 PSI of pressure and 250 degree steam.

When required, EPA approved soaps and chemicals are utilized with MSDS sheets available for review. No harmful waste water is ever allowed into the storm drains. When necessary, waste water is recovered and filtered through our filtration system for proper disposal.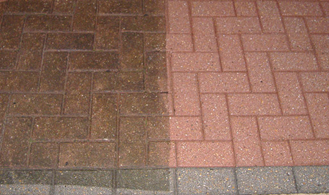 We have the experience and capability to provide quality steam cleaning services custom designed to fit each individual property's needs and budget.


Our company has grown largely by customer referrals from clients who appreciate doing business with a reputable company that believes in integrity. Our employees care about the quality of their work and giving our customers a clean property that presents the best image possible.

Spray & Wash provides complete exterior cleaning of your property with up low pressure and 250 degree steam to remove dirt, grime, gum, oil, grease, organic growth such as black algae and other surface debris.
Serving areas throughout Florida
EPA Compliant
NOTHING CLEANS LIKE STEAM

Spray & Wash has been helping to diligently maintain some of the most prominent properties in Florida.

Call us TODAY at 305-305-8484 to discuss how we may be able to help solve your maintenance program problems and ensure you maximize your real estate investment value. Feel free to contact us with any questions you may have.
OTHER SERVICES OFFERED
&nbsp &nbsp
Call Spray & Wash at 305-305-8484 for
a FREE ESTIMATE & CONSULTATION


Our customers include City, County and State Contracts, Residential Customers, Property Management & Facility Management Companies, Malls, Shopping Centers, Stores & Restaurants, Medical Facilities, Commercial Real Estate Companies, Homeowner Associations, Office Buildings, Industrial Parks, Universities and Hotels